Thermoelectric cooling
Those looking for a wine fridge will encounter two types of cooling, namely wine cabinets with compressor cooling and thermoelectric cooling. Most wine wine coolers in our range are equipped with a compressor cooling. In this article we describe the Peltier technology. The advantages and also the disadvantages of a thermoelectric cooling element.
Thermoelectric cooling element
The Peltier technology uses a thermoelectric element that is also described as an electric heat pump. Because a power source is sent between two metal surfaces, a heat transfer is achieved. No moving elements are used with this technology, making the wine cabinet virtually vibration-free. This so-called Peltier effect is named after its inventor Jean Charles Athanase Peltier. The small wine coolers in particular have thermoelectric cooling instead of the traditional compressor cooling. Below is a simplified representation of the element in question.
How does thermoelectric cooling work?
Thermoelectric refrigerators work by means of a Peltier element that transfers heat from one side to the other. A Peltier element therefore always has a warm and a cold side with a temperature difference of approximately 20 degrees. The warm side has the temperature of the ambient temperature while the cold side is 20 degrees lower. Due to the presence of a fan, a thermoelectric refrigerator is not completely silent because the Peltier element must always be cooled by the ambient temperature.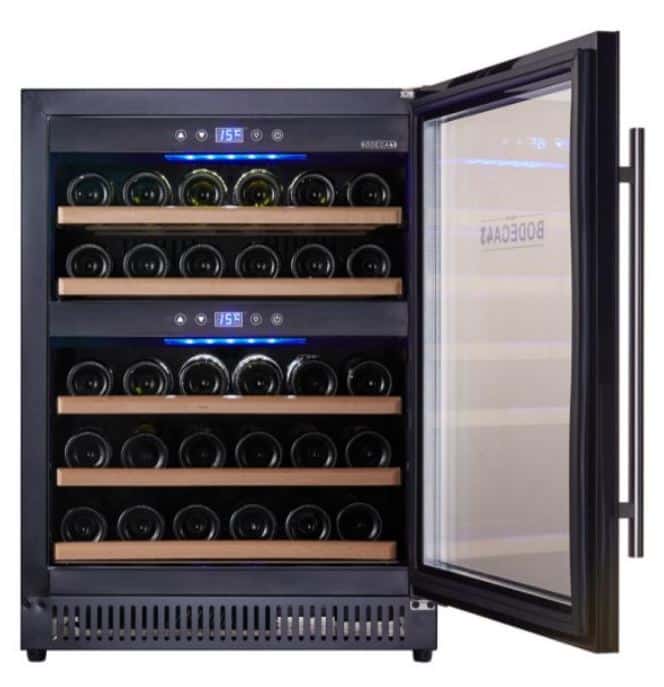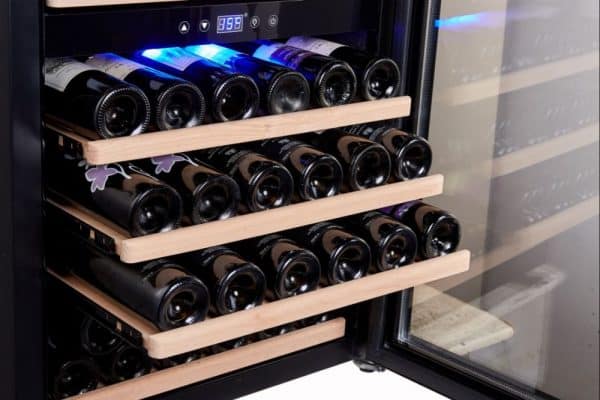 Advantages of a thermo-electric cooling system
Compact and economical;
No refrigerant needed, environmentally friendly;
No vibrations, this is very important for the preservation of wines;
After moving, the wine fridge can be connected after a few moments.
Low maintenance and a long lifetime value.
Disadvantages of a thermo-electric cooling system
Consumes a little more energy than a compressor cooling;
Cools max. 15-18 degrees relative to the ambient temperature;
Not suitable for installation. Substructure is possible provided sufficient ventilation is provided.
Pay attention: If a wine cooler with a Peltier cooling system is transported during humid weather conditions, you must first wait an hour before you start using the climate cabinet. There is a possibility that moisture (condensation) could have deposited on the electrical part in the wine conditioning unit. This is harmless, but let the wine cooler acclimatize for a while in the room where it will be placed.