Buy a Compressor Wine Cooler - Free Shipping in the UK
Wine fridge with compressor cooling
The Wine Cooler Shop has freestanding and built-in compressor wine cabinets. Wine cabinets with a compressor cooling are more powerful and has more cooling capacity than a thermoelectric wine cooler (peltier cooling). For this reason, Wine Cooler Shop chose the brand BODEGA43. BODEGA43 only produces wine cabinets with powerful compressor coolers for freestanding and built-in wine fridges. Thanks to the powerful compressor cooling, large volumes can be stored in a wine cabinet with compressor cooling. This is ideal for users with large wine collections and for catering purposes.
The second major advantage of compressor wine fridges is the adaptability of the wine fridge. Compressor-cooled wine fridges can adapt more quickly to changing ambient temperatures and such as incident light and rapidly rising temperature when you turn on the central heating in the morning. This keeps the temperature in the wine fridge stable. A stable internal temperature ensures that aromas of the wines are preserved and that the wine develops optimally.
Consider purchasing a compressor wine fridge if you plan to store a large volume of wine bottles or if the wine fridge suffers from varying ambient temperatures.
Wine fridge with compressor or thermoelectric cooling?
Which type of wine cooler or wine fridge is best for you? To determine which wine cabinet suits the most for you, depends on several factors.
If you need storage for a small amount of wine bottles (up to 18 wine bottles) then a thermoelectric wine fridge is a suitable option for you. Thermoelectric wine fridges are often bought as a small side wine fridge for small spaces or to place somewhere in the living room. This type of cabinets is less suitable for storing and developing wines for years.
If you have a large collection of wines and if you are an huge wine lover, then a wine cooler with compressor cooling is the best option. If you plan to build-in the wine cooler, then a compressor wine cooler is the best option for you. Compressor wine cabinets ensure less noise and are (almost) vibration-free, making it very suitable for installation in a kitchen. It is also important for installation that you buy a wine cabinet or wine fridge that is suitable for installation. The difference lies in the place where the warm air is removed.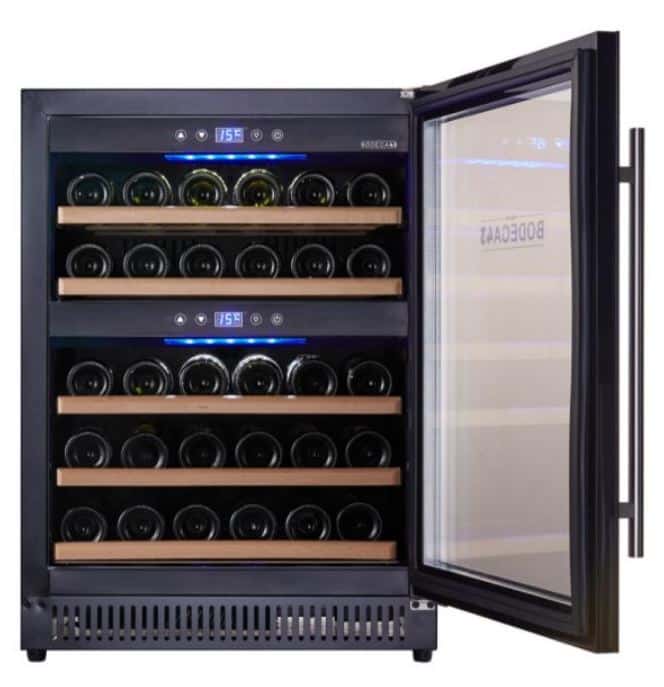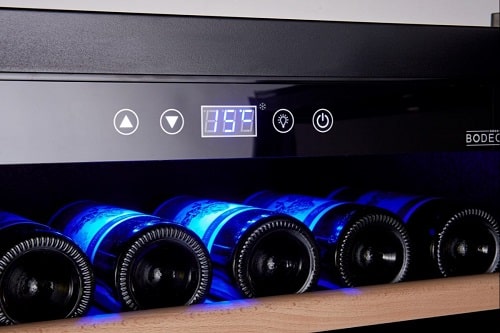 Buy a new compressor wine fridge
Compressor cooled wine cabinets are effectively used for almost all wine fridges with medium (24 wine bottles) to large capacity (24+ number of wine bottles). Most wine fridges with 24 wine bottles or more only operate on compressor cooling.
The Wine Cooler offers the following compressor wine climate cabinets: