Please find our wine coolers below. Don't hesitate to contact us if you have any questions about our wine coolers.

Wine Cooler Shop
Wine Cooler Shop has chosen wine coolers from BODEGA43 for their low noise (39 dB), little vibration, low energy consumption, unique design, and the use of high-quality materials. No wonder every BODEGA43 wine cooler comes with a 3-year manufacturer's warranty.
Thanks to dual temperature zones you can store and serve both white and red wine from the same wine cooler. Below, you will find a few unique features of our BODEGA43 wine coolers and fridges:
Choose between Celsius or Fahrenheit.
A temperature range of 5 to 20 ºC.
Active fan to maintain a constant temperature in the wine cooler.
The wine fridges and wine coolers have very little vibration, which is important for keeping your wine bottles under the right conditions for a long time.
Low noise (39 dB).
Very energy efficient.
Triple insulating glass for extra insulation with a uv-filter to protect against loss of aroma (unique in the market).
Designer full-glass door with ergonomic doorknob and stainless steel handle.
All wine coolers and tall wine fridges have blue led lighting and a touchscreen display panel.
At Wine Cooler Shop, you get a warranty of 3 years on your wine cooler or fridge. Don't hesitate to contact us if you have any questions about our wine coolers. You can get in touch via our contact page.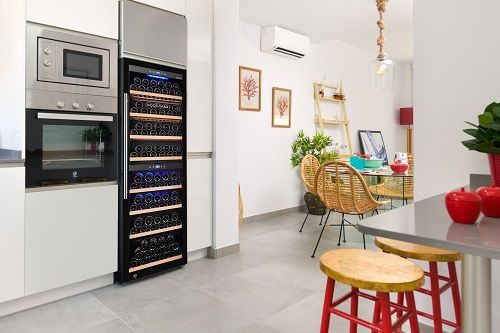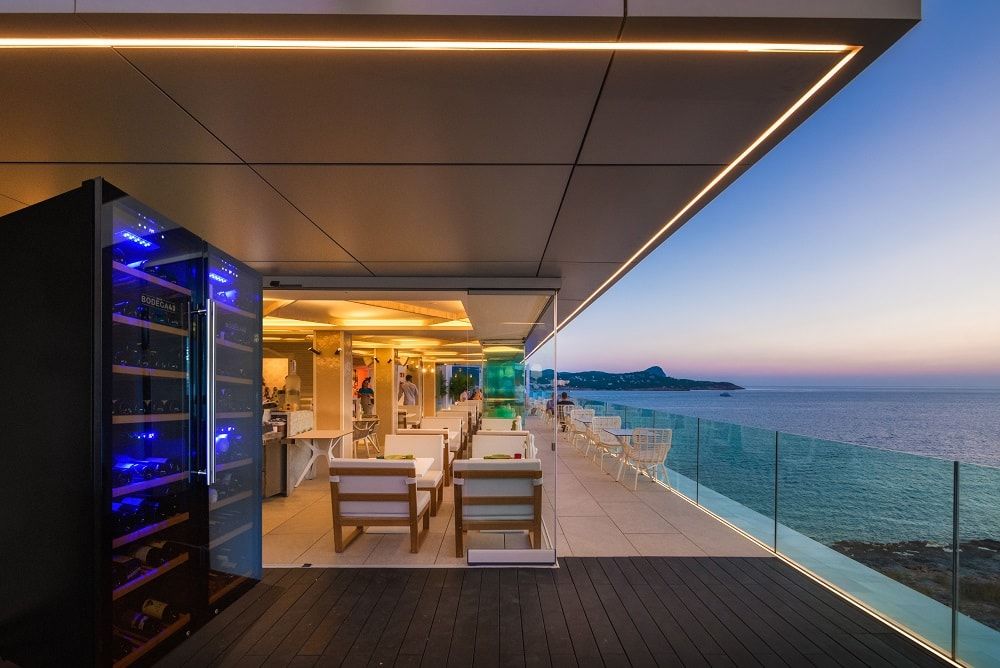 BODEGA43 wine coolers
About BODEGA43
BODEGA43 is synonymous with innovation and design in wine coolers. With a passion for wine and food, BODEGA43 strives for the best possible quality, technology, and design for optimal wine ageing. The aim of BODEGA43 is to make a good wine cellar accessible to every wine lover.
The high-quality technology and modern design of BODEGA43 fits seamlessly everywhere and turns a kitchen or living room into a contemporary space. BODEGA43 thus creates the perfect experience to make all your wine wishes come true. Without a doubt, the best cellar for your wines.
BODEGA43 ® is a registered trademark.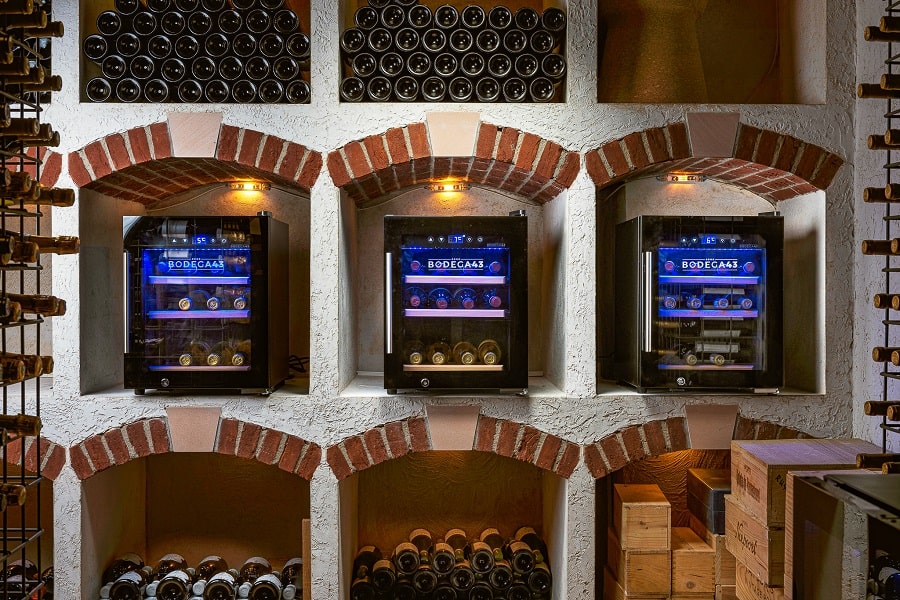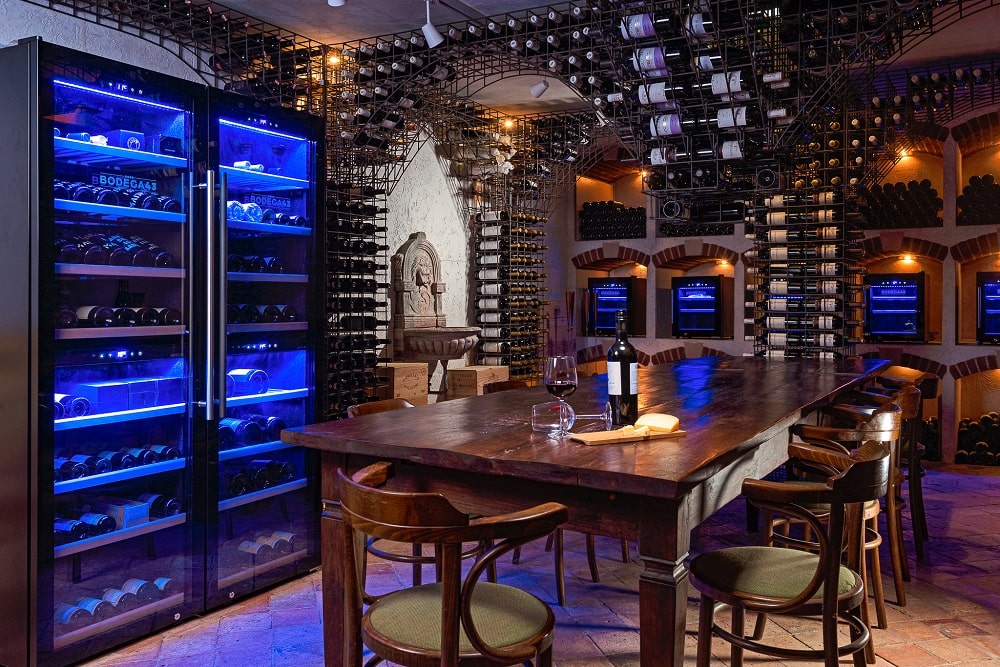 Contact Wine Cooler Shop
Don't hesitate to contact us if you have any questions about our wine coolers. You can get in touch via our contact page. We are available from 8 AM to 8 PM, 7 days a week. You have the option to return any items purchased from Wine Cooler Shop within 60 days of delivery.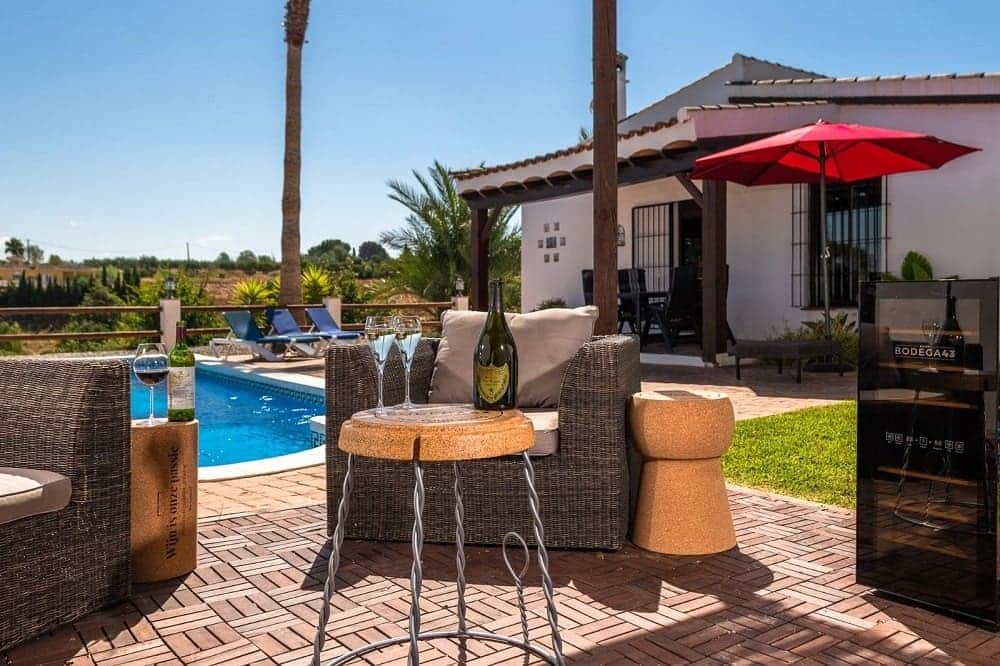 BODEGA43 wine accessories
Original and durable wine accessories from BODEGA43, made from high-quality materials with a luxurious appearance for all the wine lovers.
Discover all our products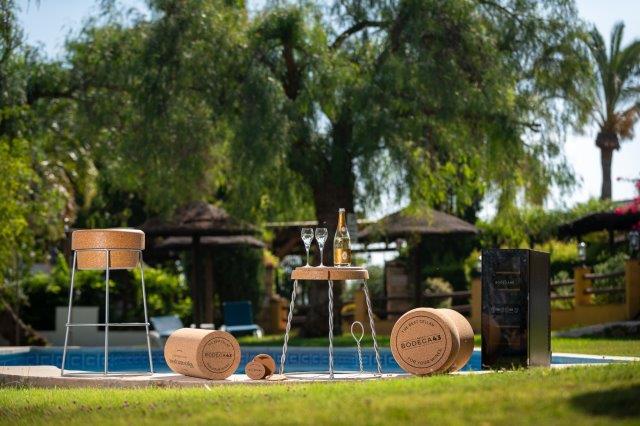 Other wine accessories
From modern side tables, champagne muselet chairs and champagne cork stools to luxury wine coolers and cork coasters for real wine lovers. For the most beautiful wine accessories, you're in the right place at Wine Cooler Shop.
Discover all our products
Frequently asked questions about wine coolers
What is a wine cooler?
A wine cooler is a multi-temperature fridge where you can store white and red wine. With a wine cooler you can give your own interior a luxurious look and you can save the wines at optimal temperature. There are 3 types of wine coolers: freestanding wine coolers, under-counter wine coolers and built-in wine coolers.
Freestanding wine coolers: just like the wine cellar, these wine coolers are designed to stand alone without being incorporated to any part of your kitchen. The BODEGA43-64 freestanding wine cooler has a stylish design and offers perfect storage conditions as a wine cabinet.
Under-counter wine cooler: these are wine coolers that can be incorporated into any kitchen design. The design of these wine coolers allows them to fit into any cabinet space, because they can expel the warm air through the rear of the cabinets.
Built-in wine coolers: the coolers come as built-in units for a specific interior design. They can come in a variety of sizes: from small sizes that can fit under countertops to units that can accommodate over 200 bottles. The BODEGA43-40 is a perfect example of a great built-in wine cooler with a luxury design.
How does a wine cooler work?
Wine coolers can either be compressor or thermoelectric. A compressor wine cooler operates in the same way as a refrigerator, because it cools using a liquid refrigerant. The refrigerant circulates through a compressed system that produces cold air and gets rid of hot air inside the fridge. Thermoelectric wine coolers, on the other hand, uses the Peltier effect discovered in 1834 by the French Physicist. Cooling in these systems occurs where 2 different conductors of electricity meet. The heat is exchanged between the 2 conductors, with the conductor on the inside getting cold and the conductor on the outside getting hot.
Can a wine cooler be used to storage beer?
Yes, beer in bottles or cans can also be stored in your wine cooler. Just like wine, different types of beer have specific serving and storage temperatures. Besides beer and wine, you can store your favorite spirits, water, soda, or juice.
What is the best wine cooler?
It depends entirely on your requirements and how you will use the wine cooler. Contact us for free advice and let us help you make the best choice.
What is the price of a wine cooler?
A good wine cooler costs between £ 350 and £ 3500. BODEGA43 has a wide selection in this price range. A wine refrigerator with 1 temperature zone is cheaper than a wine refrigerator with 2 zones. The number of bottles and total volume in litres also have an impact on the price of a wine refrigerator. Additional options, such as the type of wine racks, cooling technology, delivery options and colour can make the wine refrigerator more expensive.
Can any wine cooler be built in?
No, not every wine cooler is suitable to be built in. It totally depends on how the heat is dissipated. Each product indicates whether it is suitable for built-in or intended for freestanding use.