In the winter months it is wonderful to cook with Spanish red wine. The flavors and aromas of (red) wine give winter dishes an enormous boost. Curious how exactly you make red wine sauce? In this article we will teach you how to make three delicious varieties that will certainly impress your dining guests.
Red wine sauce for steak
A delicious venison steak with red wine sauce. Yet you can also make a red wine sauce to serve with a crispy fried piece of duck breast. Or how about the better tenderloin? Are you starting to make your mouth water too? Don't worry, making such a red wine sauce isn't that difficult at all. At least if you follow the step-by-step plan below.
Red wine sauce recipe
Ingredients
For enough sauce for 6 persons:
2 shallots
1 large clove of garlic
400 ml red wine (good quality, but not too expensive)
200 ml beef stock
Small splash of balsamic vinegar
1 bay leaf
Few sprigs of thyme
Pepper and salt
125 grams of butter, in cubes + a little extra.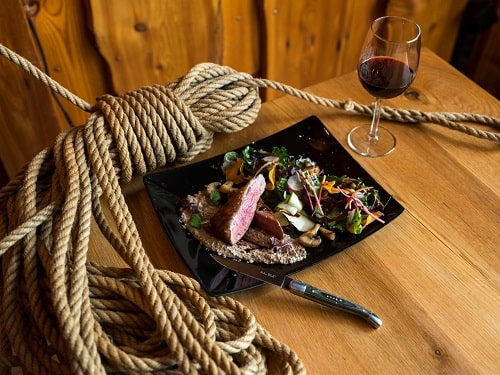 Red wine sauce for duck
To be able to make this dish, we recommend that you use a core thermometer.
Ingredients of a red wine sauce for duck
4 duck breast fillets
4 shallots, chopped
500 ml dry red wine
250 ml chicken stock (recipe)
1 sprig of thyme
1 bay leaf
10 black peppercorns, crushed
25 + 10 gr butter (real)
Salt and freshly ground black pepper
Materials: frying pan, roasting pan, aluminum foil, fine sieve
The entire step-by-step plan is explained below:
Preheat the oven to 200 degrees.
Heat 25 g butter in a frying pan and fry the duck breasts on the skin for about 5 minutes until the skin is crispy. Turn them over and bake for another 3 minutes. Transfer the meat to a roasting tin and bake for 15 minutes. Take the roasting tray out of the oven and let the meat rest under aluminum foil.
While the meat is in the oven and while resting, make the sauce.
Put the shallots in the shortening in the frying pan and fry them for about 2 minutes on medium heat until they are soft and translucent. Add the thyme, peppercorns, bay leaf and red wine and bring to the boil. Meanwhile, use a wooden spoon to scrape the baked-on ingredients. Let it reduce on high heat for about 5 minutes until it becomes syrupy.
Add the stock and reduce again to a slightly thickened sauce.
Strain the sauce through a fine sieve and return to the pan. Lower the heat and mount the sauce with 10 grams of ice-cold butter. Season with salt and pepper.
Serve the duck breast whole or in slices as desired and serve the sauce separately so that everyone can determine the amount themselves.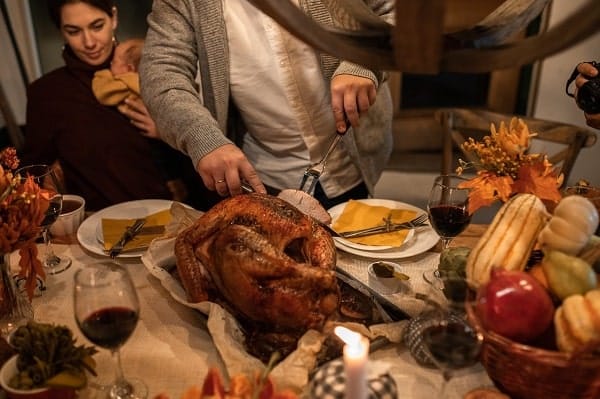 How to make a red wine sauce
How do you make red wine sauce? This question is often asked by many consumers. The entire step-by-step plan is explained below:
Peel the garlic and shallots and finely chop the shallots.
Fry the shallot for 5 minutes in the butter in a wide (sauce) pan.
Spoon the garlic, thyme and bay leaf into the shallot.
Pour the meat stock and wine into the pan and bring to the boil.
Let the sauce reduce by half for about 15-20 minutes.
Pour the reduced sauce through a fine (pointed) sieve over another pan.
Heat the sauce again to boiling point and season with pepper and salt if desired.
Cut the ice-cold butter into cubes.
Remove the pan from the heat and beat the butter cubes through the sauce in sections with a whisk, so that the sauce binds slightly. Keep the sauce warm on a flame spreader or au bain marie, but do not let the sauce boil again.
Serving tip:
Serve with fried entrecote or steak and potato mash. You can also enrich the sauce by supplementing the wine (2.5 dl) with red port (1dl). If you use this sauce with game, you can add some crispy fried bacon cubes.
Storage tip of red wine sauce:
You can store the remaining red wine at temperature in a BODEGA43 wine climate cabinet. With a passion for wine, BODEGA43 strives for the best possible quality, technology and design for optimal wine aging.
Sweet red wine sauce
Which wine for red wine sauce? Do you prefer sweet? Or do you make a fruit salad, for example?
A sauce made from red wine fits perfectly with that too! A tip for choosing a wine: the higher the alcohol percentage, the sweeter the sauce will eventually become.
300 ml of dry red wine
100 grams of brown sugar
1 tablespoon of flower honey
splash of water
1 cinnamon stick
This is how you make it:
Put the sugar and honey in a saucepan and heat to a caramel sauce.
Deglaze with a splash of water. Note: this can splash!
Then add the red wine to the caramel and add the cinnamon stick.
Let it thicken on a low heat to a thicker sauce.
Keep the wine at the right temperature
The more tannins and acids a red wine has, the longer it will keep after opening. It is best to drink light red wines within a day or two. Solid red wines last a little longer (3-4 days after opening) and in some cases even taste better if you drink them after one or more days.
Light red wine: 2 days
Solid red wine: 3 to 4 days
Tip: keep your opened red wines in the wine cabinet as well, so they will last longer.