Buy a Small wine cooler or Small Wine fridges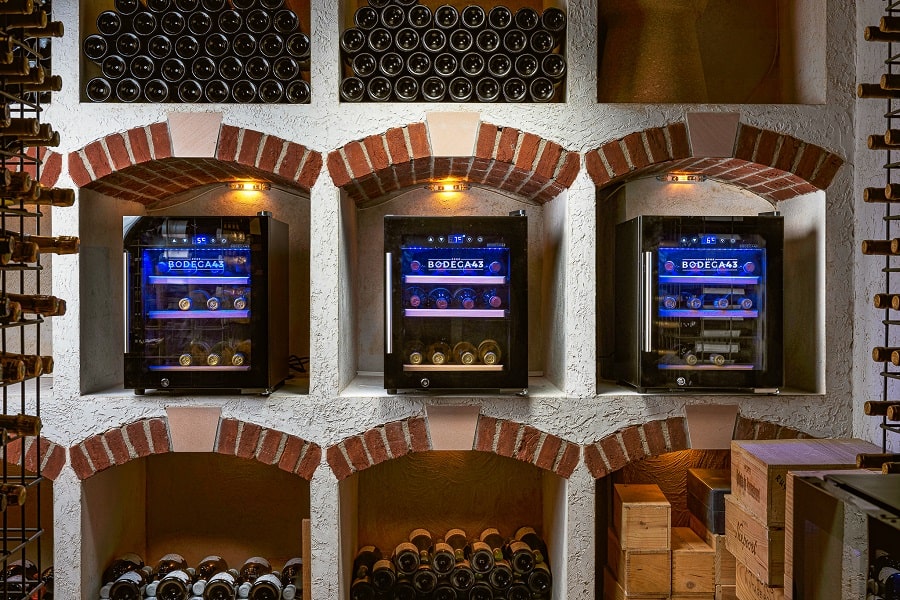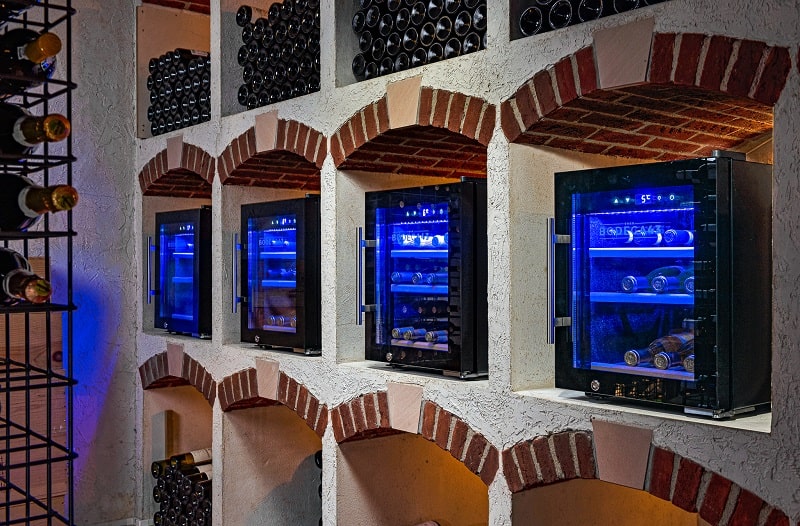 Small wine cooler
A wine cooler keeps your wine cool and at the right temperature. The advantage of buying a wine cooler is that you always have wine available at drinking temperature for unexpected moments. Perfect circumstances for when you have an unexpected friend passing by. You never have to cool or warm your wine anymore before drinking.
Our small wine fridges
A small wine fridge is ideal if you have limited space at home, but still want to serve your wines at the right temperature. Our small wine fridges are suitable for 12 – 24 wine bottles, are very compact and take up little space the home.
The BODEGA43-24 is a very compact small wine fridge which can hold 24 wine bottles – a very large storage capacity for its dimensions. It is equipped with a heating function to ensure an even more consistent temperature and has a brown-tinted triple-glazed full-glass door for increased energy efficiency and maximum protection of your wines. The BODEGA43-24 is equipped with 5 beech wood shelves and blue LED lighting.
This wine fridge has 2 temperature zones for serving both red and white wine at any desired temperature between 5 and 20°C. The B4324 is also an excellent choice for those who have limited space in their home and/or wallet, as well as those who want to store wines for longer to allow flavour to develop under optimal conditions.
Just like their big brothers, our small wine coolers have a luxurious look with full-glass doors made of UV-resistant brown-tinted, most of the time, triple glazing. The luxury blue LED lighting gives these small wine fridges a warm feel.
Don't hesitate to contact us if you have any questions about our wine coolers. You can get in touch via our contact page.
Small wine cooler cabinet
The small wine cooler cabinet of BODEGA43 is an active wine cooler cabinet. Just connect it to the power supply and fill it with your fine wines. Until the moment you decide to drink, you do not have to pay any attention to your wines or wine cooler cabinet anymore. It cools if it has to cool and it heats when it has to heat. If you compare this with the work you have with a passive wine cooler that you have to fill with ice cubes or cooling elements, you have a life like in heaven!
Small wine cooler fridge
Small wine fridges with dual-zones, such as those from BODEGA43, are exceptional. Most small wine fridges often have only one temperature zone, and manufacturers do this to save on both space and costs. As a result, most small wine fridges are only suitable for either red or white wine.
BODEGA43 also offers small wine fridges with two temperature zones so that you can drink both red and white wine at the right temperature. Another huge advantage is that BODEGA43 offers an extensive manufacturer's warranty of 3 years as standard, even on small wine fridges.
Don't hesitate to contact us if you have any questions about our wine coolers. You can get in touch via our contact page.
Wine cooler small size and depth
The 24 bottle wine cooler has a size of 395 * 545 * 870 mm (w * d * h). In addition, the wine cooler offers you numerous advantages. It has a Low noise and very little vibration to allow the wine to rest. You also benefit of a compressor with fan cooling and an active fan for a constant temperature per zone. The insulating glass with UV filter protects against loss of aroma.
Small wine cooler dual zone
Thanks to the wine cooler dual zones, you can easily store multiple types of wine. The cooler has six pull-out drawers with beech wood grids and a blue LED display with touchscreen panel. You benefit of a 3-year full manufacturer's warranty.