Siemens wine fridges
The Siemens wine fridges are equipped with a state of the art technology. For example, the LED lighting of many wine cabinets switches on when you touch the stainless steel handle. Characteristic of the Siemens wine fridges are the technologies that ensure that the quality and freshness of your products are guaranteed. The wine fridges of the BODEGA43 brand have the same characteristics as the Siemens small wine coolers of the German brand.
With a Siemens, or a BODEGA43, wine cooler you do not choose a price fighter, but a guaranteed long life, above-average user-friendliness and ingenious technologies. The compressor with fan cooling and active fan for a constant temperature per zone is an example of this. In combination with the good insulation, this ensures that the wines are always at the right temperature and thus the wine climate is optimal within the wine cooler. In addition, the cabinets have blue LED lighting in each zone, giving your kitchen a luxurious look.
Wine cooler built-in Siemens
The BODEGA43 wine coolers, just like the Siemens coolers, have insulating glass with UV filter that protects against aroma loss from the wines. 'Wine Cooler Shop' sells various wine cooler models from small to large and wide to narrow, the BODEGA43-40 is the ideal built-in wine cooler.
The freestanding wine fridge BODEGA43-66 is a spacious wine cabinet for the larger wine collectors. And the catering wine cabinet BODEGA43-180 is a tall wine fridge especially for the catering industry. A total of 180 wine bottles (480 liters) fit in the robust catering wine cabinet.
Siemens under counter wine fridge
'Wine Cooler Shop' sells various wine fridge models from small to large and wide to narrow, the BODEGA43-40 is an ideal under counter wine fridge. The BODEGA43-40 is a dual-zone wine cooler, suitable for red and white wine. Dimensions of this wine fridge is identical to a dishwasher model and is ideal as an under counter wine fridge in your kitchen, but also suitable a freestanding wine cooler.
Why should you buy a wine cooler at "Wine Cooler Shop"?
We give a 3-year warranty on all your purchases via 'Wine Cooler Shop'. In addition, we offer you a free 30-day return guarantee. If you do not like your purchase, 1 phone call is enough and we will pick up the wine fridge from you again and we will refund the purchase amount to you or exchange it for another model.
Compressor cooling wine coolers of BODEGA43 control temperatures with much more precision and are capable of getting down to lower temperatures. Our wine coolers are much less affected by the external temperature and will only click into action when necessary, making them an energy efficient option. Our BODEGA43 wine cabinets are modern wine cabinets with all new technologies integrated in the cabinet.
Wine Cooler Shop gives you the option to change the handling of the wine coolers door to provide greater installation flexibility.
Wooden shelving of BODEGA43. Wooden shelves are preferable to wire racks as they are nonscratch and will help to keep bottles and labels in immaculate condition. Also, wood alsonaturally absorbs vibrations,which will help to retain thesediments natural balance. Wooden slatted shelves hold wine bottles securely and can be pulled out easily allowing you to choose your next bottle with ease!
It is important to store wine away from direct sunlight. BODEGA43 wine coolers have integrated full-glass design doors. These full-glass design doors are UV resistant. The protective glass will stop any UV rays penetrating through and damaging your wine.
We can be reached on 0203 9669 192 or you can email us at:  info@winecoolershop.co.uk.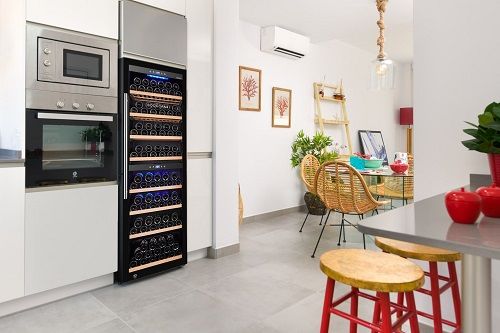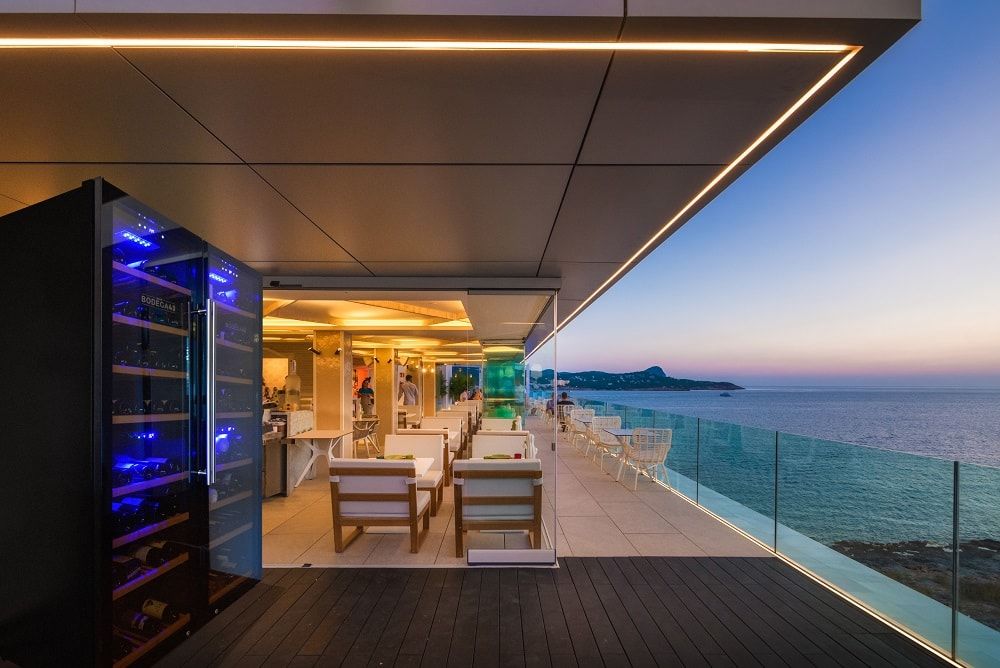 Sign up for our exclusive discounts, advice and tips about your wine cooler.