Tall thin wine fridge
Beautiful, slim, small wine fridge from BODEGA43 that takes up little space in your home due to its height. If you have a small living room or hallway where you want to give it a luxurious look, then the BODEGA43-24 with 2 temperature zones deserves your attention. With a full 3-year manufacturer's warranty from BODEGA43, you can enjoy this small wine fridge for years to come.
Narrow wine fridge
A tall thin narrow wine fridge provides the ideal climate for good wines. The great advantage of a tall thin wine cooler with dual-zones is that the wine can immediately be served at the right temperature for the ideal taste experience.
With a tall and small wine cooler, you get all the benefits of a good wine cellar at home!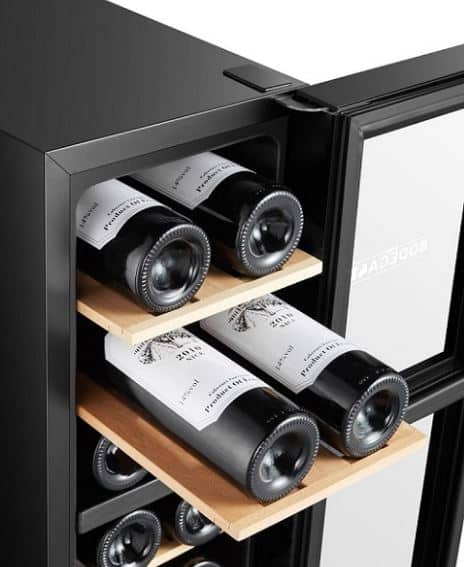 Tall skinny wine fridge
The BODEGA43-24 slim wine cabinet has a storage capacity of 24 bottles. This compact freestanding wine cabinet has two temperature zones that are adjustable from 5 ° to 20 °. This makes the BODEGA43-24 suitable for serving red and white wine and champagne. The compact wine cabinet fits in any place in the house, is quiet and has a very low vibration, which is ideal for storing and serving your wines properly for a longer period of time.
Built in tall wine fridge
"Wine Cooler Shop" offers both free-standing and built-in wine coolers. The BODEGA43-40 is a wine cooler with a maximum capacity of 40 wine bottles and is ideal for your kitchen.
The BODEGA43-24 is a smaller model, intended for free-standing use, with a capacity of 24 wine bottles and a stylish full-glass door with stainless steel handle. This wine cooler is quiet and has very little vibration (39 dB), which is ideal for keeping your wines at the right temperature.
Are you looking for a wine cooler for your kitchen?
The BODEGA43–40 under-counter wine cooler is an ideal built-in model if you want to store your wines at eye level. The BODEGA43-40 built-in wine cooler offers many options for installation in your kitchen. But you can also install the B4340 higher in your kitchen so that your wines are always in sight and easily accessible. The absence of a ventilation grille and the timeless look means that the BODEGA43-40 fits effortlessly into any kitchen.
Slim wine fridge
The BODEGA43-64 is a spacious wine cooler with a maximum capacity of 64 wine bottles (195-litre total volume). The BODEGA43-64 is a more spacious variant from "Wine Cooler Shop". The wine fridge has seven pull-out drawers made of natural beech wood, a blue LED display and a touchscreen panel.
With a capacity for 180 bottles, the BODEGA43-180 is the perfect cooler for the catering industry and real wine collectors. This stylish and reliable wine serving cabinet is ideal for restaurants to stock a wide range. The BODEGA43-180 accommodates a total of 180 wine bottles (a total volume of 480L) and has a temperature range of 5 – 20 ºC. Wine Cooler Shop models have the same effect as comparable models from CDA, Caple and Miele wine coolers.
Don't hesitate to contact us if you have any questions about our wine coolers. You can get in touch via our contact page.
Buying a thin wine fridge?
We offer a 3-year guarantee for private use on all your purchases through Wine Cooler Shop. In addition, we also offer a free 60-day return guarantee. If you aren't happy with your purchase, then one phone call will be enough for us to pick up the wine fridge from you and to refund the purchase amount or exchange it for another model!
Sign up for our newsletter for all discount promotions, tips and advice for your wine cooler!
!
Blog from Wine Cooler Shop